NVEPC - Joint Councils Meeting - The Six Step Process of Estate Planning for Vacation Homes
Date:
Tuesday, April 20, 2021
Speaker:
Jeremiah W. Doyle IV, BNY Mellon Wealth Management
Join us for our Joint Councils Meeting with the Washington, D.C. Estate Planning Council and the Estate Planning Council of Montgomery County, Maryland, on Tuesday, April 20, 2021, at 5:00 pm EDT via Zoom. There is no cost for current NVEPC members, and guests are welcome to join for $25. Connection details will be provided prior to the event.
About the Presentation:
This session will discuss the six steps encountered in estate planning for a vacation home. First, why plan? Second, technical issues and family concerns. Third, practical problems in giving away or selling a vacation home. Fourth, ways to give away or sell a vacation home. Fifth, forms of transfer and how to hold the title. Sixth, governance issues. As an added bonus, we will discuss a behind-the-scenes, real-life transfer of a vacation home from one generation to the next.
About the Speaker: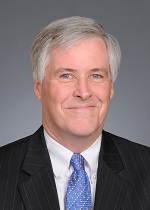 Jere Doyle is an estate planning strategist for BNY Mellon's Private Wealth Management group and a Senior Vice President of Bank of New York Mellon. He has been with the firm since 1981. Jere provides high net worth individuals and families throughout the country with integrated wealth management advice on how to hold, manage and transfer their wealth in a tax-efficient manner. Jere is admitted to practice law in the Commonwealth of Massachusetts and before the United States District Court, United States Court of Appeals (First Circuit) and the United States Tax Court. He formerly served as a member of the Massachusetts Joint Bar Committee on Judicial Appointments. Jere is the co-author of Income Taxation of Estates and Trusts, a law school casebook published in December 2019 by Carolina Academic Press. He is also the editor and co-author of Preparing Fiduciary Income Tax Returns, a contributing author of Preparing Estate Tax Returns, a contributing author of Understanding and Using Trusts, a contributing author of Drafting Irrevocable Trusts in Massachusetts all published by Massachusetts Continuing Legal Education, a reviewing editor of the 1041 Deskbook published by Practitioner's Publishing Company and a contributing columnist for Estate Planning Review – The Journal published by Wolters Kluwer and a member of its Editorial Board.
Jere is a lecturer in law in the Graduate Tax Program at Boston University School of Law teaching courses in Exempt Organizations, Tax Aspects of Charitable Giving, Income Taxation of Estates and Trusts and the Tax Aspects of Marital Dissolution. Jere received a LL.M. in banking law from Boston University Law School, a LL.M. in taxation from Boston University Law School, a Juris Doctor from Hamline University Law School and a BS in accounting from Providence College. He is a Fellow of the American College of Trust and Estate Counsel (ACTEC). He served as president of the Boston Estate Planning Council and as a member of its Executive Committee and was a 20-year member of the Executive Committee of the Essex County Bar Association. He is also a member of the steering committee for the American Institute of Certified Public Accountants Advanced Estate Planning Program.
Jere was named as the "Estate Planner of the Year" in 2009 by the Boston Estate Planning Council. In 2011 he was elected to the National Association of Estate Planners & Councils (NAEPC) Estate Planning Hall of Fame as an Accredited Estate Planner® (Distinguished). He has spoken at numerous professional education programs throughout the country on various topics, been quoted in numerous business publications and has appeared on CNBC, MSNBC, Bloomberg and CNN.
Event Details:
Members can join this virtual event at no charge; $25 for guests.

Guests are welcome to join when hosted by an NVEPC member.

Connection details will be provided prior to the webinar.